Welcome to the VCTA
The Victorian Clay Target Association is responsible for administering, promoting and developing the sport of Clay Target Shooting in the state of Victoria. After more information then CLICK HERE
2021 ISSF Championship Info and Nominations

Nominations are open and the form is downloadable form HERE and will also be available through the magazine when it comes out very soon.
If you would like to pre nom online please click the link below and follow the on screen prompts
https://www.trybooking.com/BPJYA
---
State Skeet Championships
State Skeet Championships were held on the weekend of January 28-31. A very successful event held at the Melbourne Gun Club.
The results for this event, and the State teams, can be found under the "Results" tab above.
~~~~~~~~~~~~~~~~~~~~~~~~~~~~~~~~~~~~~~~~~~~~~~~~
Some great footage of the event, thanks to Darren Reus of the weekends State Skeet Carnival!!
To see the footage click on the picture below

---
Commonwealth Titles to be hosted by VCTA!
This is advanced notice that the 2021 Commonwealth Titles will be hosted by the VCTA, at the State Grounds-Echuca CTC from Friday the 11th to Sunday 13th June.

With prize money and trophies in excess of $12,000 - this promises to be an exciting event! Mark it in your calendars now!

More information to follow soon.
---
VCTA AGM
VCTA AGM is to be held by video link on Wednesday, 17th February beginning at 7.30pm. All clubs are reminded that they must register for the event by contacting the State Secretary This email address is being protected from spambots. You need JavaScript enabled to view it. if they wish to be part of the decision making process.
---
Our Program Book Sponsors

The program book sponsors assist your association greatly and it would be great if you our clay target shooters could support them. CLICK HERE to visit the page with them all on it so they can assist you in your next purchase in the sport
---
2021 VCTA Program Booklet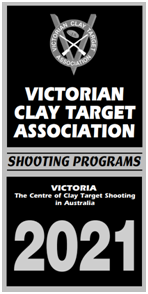 The new 2021 VCTA Shoot Program Booklet is now available please click on the booklet cover on the left.
The VCTA Shoot Calendar is HERE
---